The Price is Right: Betfred Super League Round 4 Predictions
28/02/2019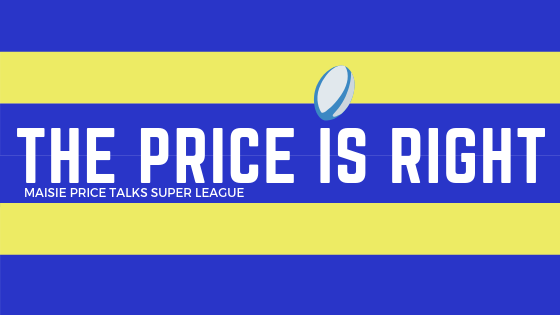 Betfred Super League returned with regular fixtures last week and it definitely did not disappoint!
Warrington ended their unlucky streak at the John Smith's Stadium, Salford provided yet another victorious comeback away to Hull KR and Hull FC finally got their first win since June 2018 in the first game of the season to end as a draw after 80 minutes. With another weekend full of rugby league on the horizon, Maisie Price takes a look at how she expects round 4 to play out.
Salford Red Devils v St Helens
To start off the weekend, St Helens travel to the AJ Bell Stadium as the team's go head to head for their fourth win of the season. Saints' victory to Leeds at the weekend gave them three wins from three, as Salford made yet another comeback to come away from Hull KR with the two points in their pockets.
Holbrook was forced to make a change to his 19-man-squad this week as centre Kevin Naiqama was forced off the field in Friday's game due to a head injury. However, I don't expect to see a lack of effort from the Saints as they were quick to adjust to the interchange and didn't let it affect their performance. Saints will be keen to maintain their 100% clean sheet record and take the top spot off Castleford sooner rather than later.
Salford showed us once again on Saturday, that they're not a team we should write off. Presumably still fresh in the minds of both sets of fans is their comeback in the last few minutes of the Million Pound Game back in 2016. This time around it wasn't quite as painful for the home side but after impressively keeping a clean sheet in the second half of the game, it's clear to see the Devils' defence is growing from strength to strength each week. Which we will no doubt see in their home fixture on Thursday.
I expect an impressive effort from both sides, particularly from the home side as they are in the middle of an excellent start to their Super League campaign, sitting in fourth place only on points difference. However, we know only too well you should never write off the Saints and I expect them to continue their season unbeaten as Betfred are placing them as favourites to win the game at 1/3.
Castleford Tigers v Hull Kingston Rovers
A whirlwind of emotions and a disallowed try for captain Joel Tomkins on Saturday led to a potential five-game ban after questioning the decision made by the match official. Castleford will also go without Adam Milner after he picked up a foot injury during their game in the capital over the weekend.
Currently top of the table, Castleford will be hoping to stay there as they remain one of only three teams yet to lose a game this season. Daryl Powell's team have got off to the best possible start to the season as they aim to capitalize on the past two years both ending in heartache and its safe to say, the coach is more than happy with what he has seen so far from the Tigers, despite having 8 first team players suffering from injury.
Hull KR however, who have both won and lost two of their opening games, will be hoping to maintain that all-important fifth spot in the table. Losing their captain so early in the season could have a knock-on effect even when he returns from his ban, as Hull KR could lose that all important leadership that can really turn a season around. However, hopes are high around the club as Tim Sheens has reported that we could see the return of Shaun Lunt within the next 8 weeks.
I predict a strong attempt from the visitors on Friday, however as the Tigers are favourites with Betfred to win at 1/5, we should expect to see yet another win added to the strong start of their season.
Leeds Rhinos v Wakefield Trinity
The Sky game filling our screens on Friday will present us with a meeting of old rivals as Leeds Rhinos meet Wakefield Trinity. With new injuries and players returning for both teams, we could be set for an interesting Yorkshire derby as the two sides try to add another couple of points to their climb up the table.
After picking up a knee injury during their defeat against St Helens, it is unknown how long Leeds will be without second-rower Stevie Ward for. However, for now at least, it's time for someone else to step up and fill his shoes once again. We could be expecting a return from hooker Matt Parcell this week, which could be the boost Leeds need to build on their previous victory against Salford in the second round of this season.
Wakefield are also sitting on two points, falling behind the Rhinos only on points difference. A new-found confidence around camp, alongside the possibility we could be seeing Pauli Pauli make his return for the first time this season, could mean back-to-back wins for the Wildcats going into their next game facing yet another Yorkshire rival.
Leeds are currently favourites, at 15/8, to win the game and we also expect a victory from the home side. However, if Leeds don't bring their best game in the first half we shouldn't be surprised to see Wakefield make it a 50% success rate.
Catalans Dragons v Warrington Wolves
Steve Price's team are the second to make the trip over to France this season and will be hoping to be the first to claim a victory. Teams can often make the mistake of underestimating Catalans when playing in Perpignan however, judging from the current form of the Wire we should be seeing yet another Super League side continue their unbeaten run.
The home side have faced a disappointing week, in terms of injuries at least. Having confirmed winger Jodie Broughton is expected to undergo surgery on his shoulder after picking up his latest injury in a game for the reserves at the weekend. Broughton hasn't played for the French side since July 2018 and doesn't look to be set to make an appearance in the first team any time soon. Another injury setback for the Dragons is David Mead, who looks to be out of the game for around two months. Facing more injuries so early in the season could go two ways for McNamara, it could be the perfect opportunity to play around with his team and make the most of the experience they hold or it could kill any momentum. 
The Wire will be looking to right the wrongs that were made in the Challenge Cup Final last year, as this is the first time the sides have faced each other since. After finally collecting a win at Huddersfield last Friday, Warrington will be looking to continue their winning ways and hoping to take the top spot from Castleford who they will face next week. The travelling team look to be the stronger side going into the game, however with Ben Westwood back in contention, it seems Price will have a decision to make about his team. This could lead to a change in play and partnership which could potentially allow Catalans to work their way through Wire's defence and over the line.
Catalans will be confident going into the game, knowing they have the Challenge Cup win over Warrington. However, Betfred think Warrington will also make it 4 from 4, placing them favourites at 8/15. It would be disappointing to see Price's side drop the two points here but it will take a strong performance from the Dragons for this to happen.
Huddersfield Giants v Hull FC
It's been a long couple of months for Hull FC fans, however, the wait for a win has finally come to an end as they watched their side claim the first golden point win of the season away at Wigan over the weekend. We would be hard pushed to find someone better to get the drop goal than their very own Marc Sneyd. In addition to this, their long list of injuries could potentially be coming to an end as coach Lee Radford claims he was spoilt for choice making the selections to travel to the John Smith's Stadium this week. The choices will include Albert Kelly, Fetuli Talanoa and Gareth Ellis who made his return to Super League after 18 months on Sunday.
Huddersfield however now remain the only team yet to win a game this season and the chances of it coming from this weekend are slim. However, the players are confident their first win is just around the corner and when they get it, we will see a whole new Huddersfield side. Despite Hull getting their first win of the season last week, it could be the perfect opportunity for the Giants to capitalize on their weaknesses and be the better team on the day. After all, coach Simon Woolford hasn't been shy in admitting that the work they have been putting in off the pitch should be getting them off bottom of the table.
After a slow start for both teams, the away side are currently favourites to win the game, however, there is the potential risk that they could come into the game still feeling the emotions of the dramatic finish last weekend. We think this could give Betfred outsiders, as Huddersfield currently stand at EVS to win the game, the chance to claim their first victory of 2019.
London Broncos v Wigan Warriors
Finishing our weekend, we will see the current champions make the journey down to the capital. It could potentially be expected that Wigan will make easy work of the game. However, both teams are coming into the game on the backs of losses which could mean both of their heads have fallen slightly.
We have seen in the past that Wigan had a tendency of underestimating teams such as London. However, as the table currently stands, the Champions are yet to get any physical points on the board, sitting in 11th place just below the Broncos who are in 10th. Wigan have had their fair share of distractions at the start of the season, with their points deduction before any games had even been played and with current rumours that Shaun Edwards could potentially be having second thoughts about joining the club next season, it would be understandable for their heads to be out of the game. However, current coach Adrian Lam insists they will be back to winning ways, sooner rather than later.
London faced a disappointing defeat against Castleford Tigers at the weekend, one that left Danny Ward almost speechless. Understandably, their first few games in Super League are going to be difficult but fans are left wondering, where the team we saw claim a win in their first game against Wakefield have disappeared to. However, with no expected changes to appear in Ward's squad for the weekend. We could begin to see London grow as a team and cement their place in Super League even further.
We expect a Cherry and White win at the weekend, as Betfred have them as strong favourites. We should also point out that it wouldn't be a complete shock to see a fair fight from London as we saw in the first game of the season, they are more than capable of surprising us and we should expect to see more of this as the season progresses.
Back