UFC 238 Odds and Predictions
07/06/2019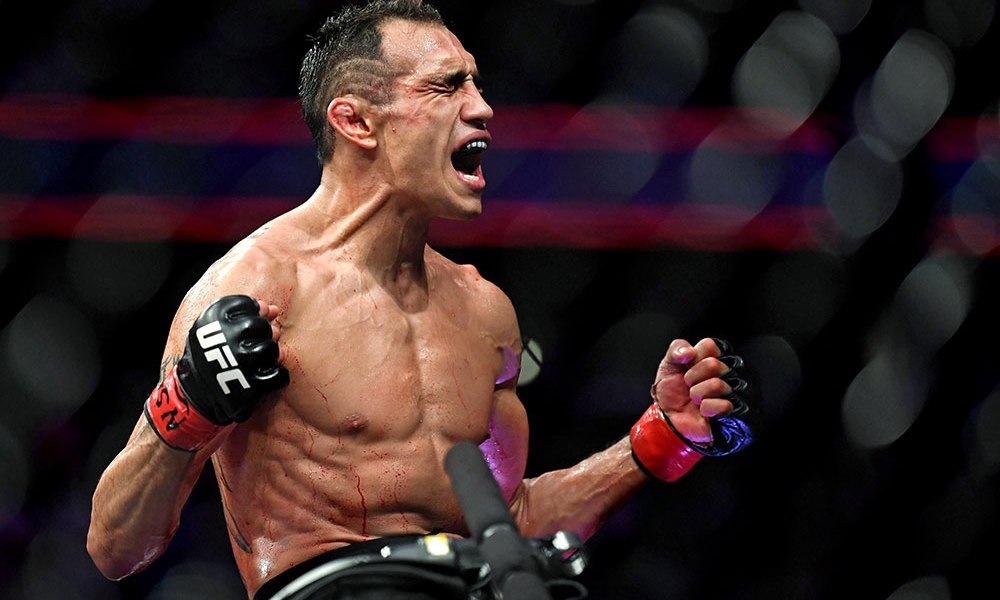 The vacant Bantamweight title is on the line this Saturday night, with Henry Cejudo and Marlon Moraes going head to head in the main event of UFC 238. Should the American prevail, it could spark the end of the Flyweight division forever.
Despite a belt being up for grabs, this isn't the fight that spectators will be tuning in for. The 'fans main event' is the highly anticipated clash between Tony Ferguson and Donald Cerrone. With the winner destined to fight the Lightweight Champion, which will be determined this September, both men will be equally desperate to triumph.
These are the two bouts that we will be previewing, where we will also put our neck on the line and try our luck in predicting two winners.
Cejudo vs Moraes
As the card's official main event, where else to kick off than with the Bantamweight Championship clash. Cejudo will be moving up in weight, but as a naturally big Flyweight, this shouldn't be an issue for the American.
Moraes will have the size advantage though and the Brazilian is the slight favourite in the UFC 238 odds at 4/5. After three straight first round wins, Magic has quickly proven his worth and fully deserves this title shot. As an explosive and dynamic fighter, Moraes will be looking to dictate the tempo of this fight and look to ware Cejudo down with his superior striking ability.
If the Flyweight Champion is to counter and prevail, he will need to make use out of the clinches and force his opponent to the floor. If you didn't know, Cejudo is actually an Olympic gold medallist in wrestling. His strength in his takedowns was highlighted against Demetrious Johnson, a factor that saw him outscore the dominant champion on points.
Stylistically, it is a bit of a mismatch.  It isn't simply a case of Cejudo only looking to take the fight to the floor though, as he is light on his feet and has a range of tools to work with. However, it could spark trouble if he tries to go toe to toe with Magic. Moraes' high kicks and striking combinations are lethal, and ActiveWins thinks that the Brazilian can catch the Messenger on the night.
It may seem like a brave bet to go against Cejudo, as he has clearly grown and developed so much in the last 12-18 months. Moraes is the real deal though and he has enough energy and power to stop this fight from going the distance.
Tony Ferguson vs Donald Cerrone
A fight worthy of its own card. Everybody is labelling this bout as the 'fan's main event', and it isn't hard to see why. These two fighters are some of the most popular figures amongst the UFC community, with many supporters not wanting to see either man lose this Saturday night.
Unlike to Cejudo/Moraes, the UFC 238 odds are heavily favouring one man over the other. This may only be Ferguson's third fight in three years, but he is the clear favourite at 8/13. El Cucuy's return has got fans fuelled with excitement, and he is looking for a 12th straight win in the UFC. His last bout against Anthony Pettis was one for the ages and we are expecting sparks to fly against Cerrone.
This is the best Cowboy that we've ever seen and after three straight wins, he finally has his sights set on a belt. One has to wonder just how fresh he is though, having only just beaten Al Iaquinta last May.  It was a dominant display from Cerrone, but many are wondering why he has taken this fight on such short notice.
Yes, the stakes are clearly high, but Ferguson sounds and looks so determined. After all the wrong doings that the organisation has put him through, everybody knows that a win this Saturday would put him in line to fight the winner of Khabib and Poirier. There would be riots if Ferguson and the fans were not given this event.
Fireworks Will Spark
Not only is this bout grabbing the headlines because of the two names involved, but from a fighting point of view, we couldn't have asked for a more explosive matchup.
It's a shame that it is only a three round fight, but Ferguson will likely be the one to coming flying out of the blocks straight from the off. The American's gas tank never seems to end and he will press Cerrone at all times, with the aim of wearing his opponent down quickly and surely. Against Pettis, we saw El Cucuy press relentlessly and work Showtime down, landing some beautiful strikes in the process.
Cowboy has admitted that he is a slow starter, but he can't afford to let Ferguson gain any early momentum. Having said that, he dominated Iaquinta in Canada last month and will want to replicate such a performance. Those head kicks that he likes to utilise are simply brutal, so Ferguson will be keen to close the distance and keep Cerrone on the back foot whenever possible. Both men have a dangerous counter at their disposal, so picking a winner isn't an easy task.
Regardless of who prevails, we are expecting an exciting clash nonetheless. It has 'fight of the night' written all over it and we are predicting it to be so.
Official Prediction
The momentum may actually be in Cerrone's favour here, but we're swaying towards the UFC 238 odds in the shape of Ferguson. As a man who has endured so many troubles outside of the cage, El Cucuy looks destined to remain and the heavy welcoming he has received highlights just how big of a star he actually is.
When the two face off and the pressure gets turned up a notch, we can't look past Ferguson in this bout. He has shown very little weaknesses in his game and Cerrone will have to conjure up a masterful display to stop El Cucuy.
On points, we think that Ferguson can overcome Cowboy and land some mean shots in the process.
UFC 238 Odds at Betfred
Any of the mentioned betting markets and UFC 238 odds can be found online with Betfred.
New players to their site can potentially make use out of their generous welcome offer. Sign up today and if you wager £10 with your first deposit, you will receive £30 in free bets.
Whenever you bet UFC, Betfred.
Back