3 Card Brag
27/07/2017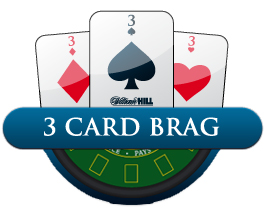 The popular casino game of three card brag is brought to life with this online casino game, from Ash Gaming.
As in a real-life casino, the deck of 52 cards is shuffled before each game. You then get the option of two distinct versions of the classic three-card poker table game, every deal.
Basically it's two games in one.
If you aren't aware of the rules, Three Card Brag is a twist on Three Card Poker, and incorporates aspects of both Rummy and Poker.
In the online casino version, the first thing you need to do is choose the chips you want to bet. You can also select your base game bet, by clicking on the 'Ante' button.
Main game:
You play the main game by pitting your three-card hand against the dealer's, aiming to get a higher poker hand than he does.
The dealer must have one of more Queens to qualify to play. Your hand is then compared to the dealer's and the best hand wins. If the dealer doesn't qualify, you win the 'Ante' bet and get your 'Play' stake returned.
Pair Bonus Game:
Alternatively, you can play pairs plus bet. Here you make a side bet by clicking 'Pair Bonus'. You don't have to beat the dealer's hand, and your winning are determined by the value of your hand.
If you have a pair or better, you win the Pair Bonus. How much depends on the value of your hand, so a flush pays out 4 to 1 and so on.
Ante Bonus:
Like the 'Pairs Bonus', the 'Ante' is determined solely by your own hand. A Running Flush, Prial (Three of a Kind) or a Run will be paid out.
Three Card Brag allows you to mix it up, playing one of the games or both together. You can also bet different amounts on each, if you so choose.
Just like real life, you can fold at any time, but the game will end and you will lose your cards and your stakes.
Try your hand at Three Card Brag and you might just get a big pay-out!
Available on:


Back