ActiveWins Revs Up for High-Octane LAC Exhibition
23/01/2017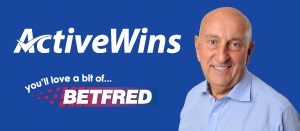 The London Affiliate Conference is by far the biggest of the three annual iGB affiliate events, with big gaming operators going all out to make an impact.
When it comes to the LAC, ActiveWins always puts the pedal to the metal, and the upcoming 2017 show is shaping up to be our biggest yet. 
Betfred founder Fred Done will be making a special guest appearance at the show, to show his support of the ActiveWins team and to speak with affiliate guests. A special Q&A session at the Betfred Executive Lounge allows visitors to get to know this living legend a bit more intimately.
That's not all.
As one of the first online casinos launched in the UK, slot specialist Kerching is turning ten this year, it seemed only fitting to celebrate with a reboot of the beloved brand.
The new-look site will be showcased at LAC, as part of the ActiveWins display, at stands L4 and L8.
World record holders Karl Meredith and Stephen Roberts of the BSA Boosters will also be on hand to share their incredible 'need-for-speed' story with visitors.
In honour of our guests, a motorbike race simulator will be installed at the ActiveWins stand, and the fastest lap of the day on Saturday and Sunday will decide the winners of our incredible automotive-racing-experience prizes.
There will also be a Twitter competition, with a winner being selected from tweeters using special hashtags #SMAzing, and #ActiveWinning.
The final lucky winner will be decided by a draw of one business card out of the bowl.
Director of Affiliates, Natalie Merrison, said: "The racing theme is in keeping with our philosophy of never slowing down, and going all out for our affiliates. There have been significant changes taking place in our business, and we are looking forward to another successful year. It is full speed ahead for us in 2017."
Certain to get the blood pumping, the track days put the lucky winners right at the heart of the action, providing an unmissable exhilarating experience.
LAC is also not to be missed.
There's still time to book your place by emailing us at: [email protected].
Look out for us at stands L4 and L8, we hope to see you there.
Back