Betable Awards ActiveWin A New Contract!
17/06/2015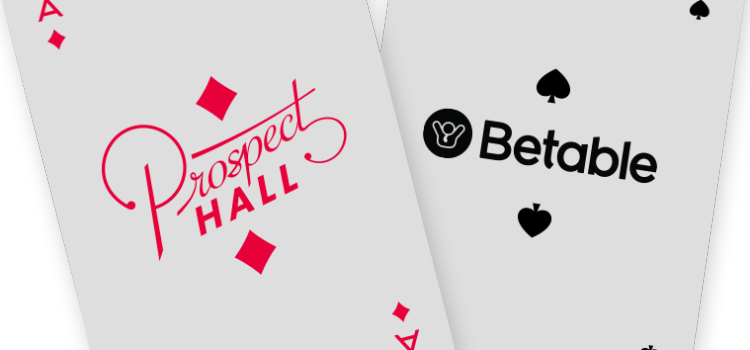 We are very pleased to announce that we, as an online marketing company, have been awarded a contract for Betable's flagship casino brand, Prospect Hall!
The San Francisco based tech company has decided to team up with us to develop and execute a digital strategy for the Prospect Hall brand which will look to optimise online campaigns and increase their conversion rate in the UK market.
Prospect Hall is an innovative new casino exclusively for the UK designed with players in mind. It focuses on delivering a range of great game content and a memorable gaming experience. Accepting all major credit and debit cards along with Neteller, Skrill and Paypal, customers can enjoy fast withdrawals and industry leading player security.
As an online marketing company, we are very excited to be working with Betable and it promises to be an enjoyable partnership for the foreseeable future. Prospect Hall's operations director, Adele Lawton had this to say;
"After careful consideration, we've chosen to work with ActiveWin because of their track record as digital acquisition experts in gaming."
It looks to be a great match for us as an online marketing company, considering we thrive at providing online and mobile services for the gaming sector. Not only that but we have seen great business wins and company expansions over the last year with new work from MoneyPlus, Cardone and PushDr.
Our Managing Director Warren Jacobs was excited by the future and had this to say;
"With their vision and agility, Betable's Prospect Hall is a superb fit for our 30,000+ affiliate network, "Active Wins" and with our launch at the AAC on June 24th, we expect to hit the ground running! We view ourselves as an extension of Betable's marketing division and will be working closely with their US and UK teams to grow the player base and maximise revenues for investors and affiliates alike."
Betable is looking to expand their future and with a select team of business experts ranging from Goldman Sachs, Yahoo, Playstation and Zynga, who can blame them? Betable aims to disrupt the online gambling market by providing innovative and "experience rich" games and ActiveWin will be right up there helping them do it.
Back