Betfred Super League: Season Predictions
31/01/2019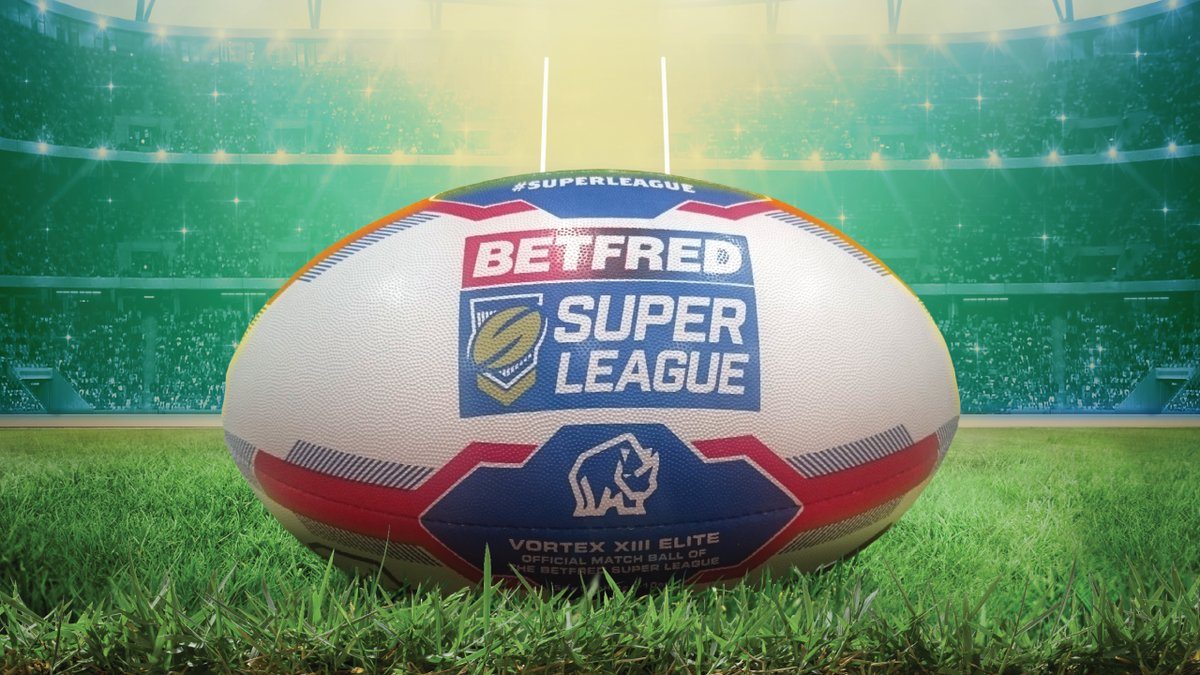 It's been 15 weeks since we saw Shaun Wane and Wigan Warriors lift the trophy at Old Trafford, and the Betfred Super League is back! The race is on for the all-important top 5 spots and we're sure to be in for a season full of surprises.
With high profile signings from several teams, the excitement surrounding this season is felt around the country as we look forward to seeing Aussie superstars make their mark on UK soil.
St Helens host current champions Wigan Warriors on Thursday, and we are preparing our predictions for how we think the teams will get on during the season ahead.
St Helens - 1st
After storming the league from the start last season, the treble was Saints' to lose, and lose it they did. Finishing ten points clear and winning the hub cap, the 5-time Grand Final Winners disappointingly fell at both major semi-finals. Despite this, coach Justin Holbrook claims they are ready to put their semi-final heartbreak behind them and kick on in their third season under the former scrum half.
With powerhouse Alex Walmsley returning from injury and new signings, Kevin Naiqama and Lachlan Coote (just to name two), we predict Saints will have another strong season with a first-place finish and appearance in at least one of the major finals up for grabs.
Could it be third time lucky for Holbrook? St Helens are 5/2 to win the regular season and 7/2 to win the Grand Final.
Warrington Wolves - 2nd
It was double the heartbreak for The Wire as they fell short in both the Challenge Cup and the Grand Final in 2018. Although it was only Steve Price's first season at the club, there was a growing feeling that it could finally be their year to lift the all-important trophy. Going into the 2019 season, Warrington have been training hard and are already looking ahead to the 2020 season signing Gareth Widdop on a 3-year deal.
Losing Kevin Brown to injury last week is a huge blow for Warrington, as he was a regular feature in their team. With the departure of Tyrone Roberts, Wire fans are questioning whether they have the players to perform this season.
However, with Jake Mamo, Jason Clarke and Canberra Raiders star Blake Austin, we shouldn't expect to see Warrington falling behind this year. We predict a second-place finish and a strong presence in the race to win both competitions.
Is it finally time for The Wire to hang up the bridesmaid dress? Warrington are 3/1 to win the regular season and 7/2 to win the Grand Final.
Wigan Warriors - 3rd
They may have lost their coach, Shaun Wane, as well as star players in Sam Tomkins, John Bateman and Ryan Sutton, but the reigning champions are a dangerous team to underestimate.
It's hard to believe that we won't see the cherry & whites lurking at the top of the table come the end of the season. New coach Adrian Lam is confident this isn't a transition season and we should expect Wigan to be back this year better than ever.
After signing a one-year extension, could this be the last year we see Sean O'Loughlin playing at the DW Stadium? Wigan will be keen to stamp their authority from the first whistle, particularly in Thursday's season opener against St Helens. Predicting a 3rd place finish, we expect Wigan to concentrate on defending their title to give their skipper the potential send-off he deserves.
Will we see a perfect first season from Adrian Lam? Wigan are 6/1 to win the regular season and 9/2 to win the Grand Final.
Castleford Tigers - 4th
Another team to know heartbreak only too well is Castleford Tigers. After running riot in 2017, they ended the campaign with a 24-6 defeat against Leeds at Old Trafford, and Castleford were determined to finish 2018 in better fashion. It wasn't to be, however, as they failed to score a single point in their 14-0 semi-final defeat to Wigan.
We still think the tigers are a team to look out for in 2019 and will finish 4th.
Castleford are 7/1 to win the regular season and 7/1 to win the Grand Final.
Catalans Dragons - 5th
Taking everybody by surprise last year and beating Warrington in the Challenge Cup final, Catalan will be ready and stronger than ever for the new season. With new signings Sam Tomkins and Matty Smith, Catalan have only strengthened their squad. It is known that going away to Catalan is a tough game and this will give them the upper hand throughout the season.
Having won a major trophy last year, Catalan could turn their focus to the league and the Grand Final, and we think they will take the final play-off spot.
Can the Dragons take the league by surprise once again? Catalan are 16/1 to win the regular season and 16/1 to win the Grand Final.
Leeds Rhinos - 6th
There was a time when Leeds ruled the Super League, but that appears to have come to an abrupt end.  After winning the treble in 2015, they went on to finish 9th the following year. After a tough couple of seasons, this could be the year where we see Leeds make their return to the top end of the table.
Although we predict a 6th place finish, it will be a close competition between 5th and 6th, with a strong enough campaign at the start of the season Leeds could easily remind the rest of the table what they are capable of.
Losing strong players such as Ryan Hall and Brett Delaney, Leeds could find it difficult to forget the memories of the previous two seasons. We predict a 6th place finish but expect to see the Rhinos show a strong campaign during the Challenge Cup.
Will we see a return to former glory? Leeds are 7/1 to win the regular season and 7/1 to win the Grand Final.
Hull FC - 7th
Hull FC are no stranger to injuries and, as a result, we don't expect to see them make top 5 this season. However, head coach Lee Radford is out to win trophies and is confident in his team's ability. Learning from previous mistakes, Radford has had the team back in training from early November to ensure they are up to standard for the start of the season.
Losing only two players at the end of last year to London Broncos and Whitehaven, Hull FC have brought in six new faces in the hope of ending the season with silverware. With a full-strength team expected back in early April, Hull FC should be sure to start their season strong. We predict a 7th place finish and a strong performance to return to Wembley.
Can Hull FC claim bragging rights in more than just Hull? They are 14/1 to win the regular season and 12/1 to win the Grand Final.
Wakefield Trinity - 8th
Pauli Pauli will miss out on the beginning of the season due to injury, which could be problematic for Wakefield. The prop made quite the difference for the Wildcats during his time on the pitch last season. Finishing seventh in the regular season last year and missing out on the fourth play-off position, Chris Chester and his team will be looking to climb up the table in the upcoming season.
The addition of Danny Brough will bring more experience to the side as they try to make a strong start to 2019. There are high hopes throughout the Wakefield side as winger Jacob Miller fancies himself to be top-try scorer.
Can Wakefield make it the extra step this year? They are 25/1 to win the regular season and 33/1 to win the Grand Final.
Hull Kingston Rovers - 9th
After a short spell in the Championship, this will be the second season back for the Robins. Head coach Tim Sheens is confident that they are more than prepared for the season. Despite finishing 10th last season, Sheens' team have reserved their place in the league and built further knowledge on their competitors and we shouldn't be shocked to see them competitive.
Beginning the season with arguably the biggest derby in Super League, Hull KR host Hull FC in what could be the making or breaking of KR's season. Gaining bragging rights in Hull will massively boost their confidence and could turn their season around before it has even begun. We predict a 9th place finish for the Robins and expect to see them put a strong performance in during the Challenge Cup rounds.
Can the Robins completely change the league? Hull KR are 66/1 to win the regular season and 66/1 to win the Grand Final.
London Broncos - 10th
After earning promotion last season, London Broncos return to Super League and are naturally branded as underdogs. It comes as no surprise that they have made new signings from successful Super League clubs such as Ryan Morgan (on loan from St Helens) and Jordan Abdull (Hull FC). Having that extra experience could be what stops them following in Leigh's footsteps of being relegated after only a year in Super League.
It will be important that Broncos' make it a difficult fixture for teams visiting their ground, to give them the edge in the League. It will be tough, but we expect to see London rise to this challenge without a problem.
Will London defy the odds in their first season back? Broncos are 250/1 to win the regular season and 250/1 to win the Grand Final.
Huddersfield Giants - 11th
Giants by name and nature, Huddersfield have often taken teams by surprise during their home fixtures. However, after saying goodbye to a number of big players, such as Danny Brough, Jake Mamo and Ryan Hinchcliffe, it could be a different story for the Giant's this season.
After joining the Yorkshire side half-way through last season, head coach Simon Woolford will have made the most of his first pre-season to ensure that his team are more than ready for the new campaign.
Through new recruits, Huddersfield could have potentially formed one of the strongest sides we have seen them play in a number of years. Despite this, we think the loss of bigger players will impact Huddersfield more than expected during the start of the season, which could have a follow-on effect throughout. With that in mind, we predict an 11th place finish for the Giants in 2019.
Can they prove us wrong and go on to win silverware? Huddersfield are 33/1 to win the regular season and 28/1 to win the Grand Final.
Salford Red Devils - 12th
Finally, we come to Salford. Despite being a team that everybody seems to think will fail to succeed, Salford fail to listen, and time and time again prove us wrong.
Despite finishing 11th in last year's regular season, the Red Devils are often the talking point of Super League. In the past this has been down to controversial chairman Marwan Koukash, however since his departure in 2017, it all comes down to what happens on the field.
The signing of Jackson Hastings last season was one that was unexpected across the league and one that we think will still be benefiting them in the upcoming season.
Can the Devils get people talking for the right reasons in 2019? Salford are 66/1 to win the regular season and 100/1 to win the Grand Final.
Who will be crowned champions? That remains unsure. One thing that is for sure is that this season looks set to be one of the most unpredictable to date.
As a key player in the ActiveWin affiliate programme, Betfred are proud to sponsor the Super League. Join us today to be part of the team.
Back