Firework Blitz
30/08/2017

We all remember the 5th of November for Bonfire Night, but what do you do to catch a glimpse of those fireworks throughout the year?
Firework Blitz could certainly help as this Playtech/Virtue Fusion internet casino slot sure has plenty of action to light up the night sky whatever the time.
More of an arcade game than the normal slot machine games, there's still plenty of prizes up for grabs including a tasty mega progressive jackpot.
Played on a five by five grid instead of the more familiar reels, you'll feel right in the heat of the action with the grid surrounded by brilliant purple smoke graphics and helpful statements like 'Launch Them For Luck' and 'Ignite The Magic'.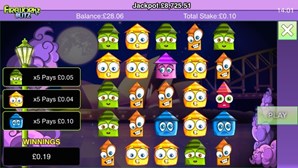 The six firework symbols are all named, just like in the Fruity Burst internet casino slot, with Sparky, Cathy, Roman, Fawkes, Sidney and Flash all helping you to win big. Although there are no wilds or scatter symbols in this internet casino game.
You could be dazzled by explosive pay-outs if you spark five or more matching symbols in a vertical or horizontal combination.
Not only that but winning combinations can be replaced by new ones with the jaw-dropping exploding symbols.
Plus, if you ignite eight of the Sparky symbols in a row you'll light up your credit with the magnificent progressive jackpot.
But like most of the internet casino games from Playtech/Virtue Fusion, the proportion of the jackpot you can win is dependent on your stake. In casino slot Firework Blitz the stakes and percentages are as follows:
£0.10 – 1%
£0.20 – 2%
£0.50 – 5%
£1.00 – 10%
£2.00 – 20%
£3.00 – 30%
£4.00 – 40%
£5.00 – 50%
£10.00 – 100%
As far as online slots go, Firework Blitz is fairly simple but has plenty of character. If you play slots online on a regular basis you might find this little change of theme to be right up your street, and it could well be one of the best casino games around.

Available on: 
Betfred


Back