The Price is Right: The Season So Far
04/04/2019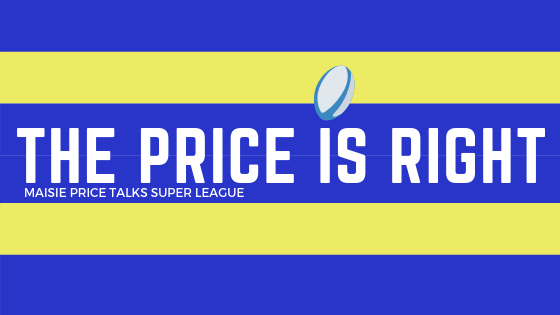 She's back!
Our very own Maisie Price returns to the blogging scene with a preview of the Betfred Super League season so far.
Carry on reading to find out what she makes of the campaign to date, and her predictions for the remainder of the season.
St Helens
Eight games in and, as the only team unbeaten, Saints are off to a dream start. Given their heart-breaking end to last season, they've bounced back exactly how coach Justin Holbrook would have wanted. The big story for the side going into the season was the departure of star player Ben Barba, and the welcoming of new players, including North Queensland Cowboys fullback Lachlan Coote. However, we can't forget last year's heroes, as James Roby continues to show us why we can never write off the Saints.
Betfred Grand Final Winner Odds: 13/8
Warrington Wolves
He's definitely got The Wire singing his praises, but what do the rest of the league make of golden boy Blake Austin? Warrington are looking to make this year different from the rest and are standing confidently in that second spot, showing us they are they are definitely over last season's heartbreak. We know only too well that Warrington could fall at any minute, however, with Steve Price around it looks to be a strong season, saying goodbye to old habits. Ben Westwood is currently serving his second ban of the season, and his ill-discipline needs to be addressed before he ends up costing his side.
Betfred Grand Final Winner Odds: 7/4
Castleford Tigers
Another team we're not surprised to see in the top 4 is Castleford Tigers. After missing out on semi-final glory last season, Daryl Powell was determined to get his side back to winning ways. Castleford had a potentially difficult start to the season with injuries taking their toll, including losing star player Luke Gale before the season had even started. Having won five of their eight games so far, Castleford will have to maintain their strong form if they want to keep themselves in the all-important top five spots.
Betfred Grand Final Winner Odds: 8/1
Wakefield Trinity
Having started their season with a defeat against new boys London, it looked like it could be a slow season for Wakefield fans. Chris Chester is yet another coach who is no stranger to long term injuries, as he's currently got three of his first team players in the physio room for extended periods.  The big talking point going into the season was the signing of Danny Brough, who made an early positive impact in pre-season training. The playmaker is currently sitting in fourth spot of the man of steel rankings showing, even after 17 years, he's still got what it takes.
Betfred Grand Final Winner Odds: 25/1
Salford Red Devils
One of the few teams to have played nine games so far, Salford remain eight points behind the leaders, sitting in 5th spot. In our preview ahead of the season, we predicted Salford to fall short at the bottom of the table and, despite it still being early days, such a decline for the Mancunian outfit would be a surprise. The main talking point surrounding Salford's season so far has to be their 46-0 win away from home at Catalan back in March, securing their first win in Perpignan in eight years. If this form continues, it looks to be the season we finally see the Salford Reds rising up the table.
Betfred Grand Final Winner Odds: 80/1
Hull FC
One of the biggest shocks we've seen in the 2019 season so far is a 13-game losing streak coming to an end for Hull FC. The home of current Super League champions, Wigan Warriors, provided the perfect setting for the first-ever Super League Golden Point game. Since then, the Black & Whites have secured themselves an extra 6 points, having won 50% of their games so far. Lee Radford will be sitting quietly confident, knowing that if they have a strong April, there is still all to play for with 21 games of the regular season to go.
Betfred Grand Final Winner Odds: 25/1
Catalans Dragons
It's been a confusing start to the season for the French side. With a 50% win record, and two of the overall eight games played ending with no points on the board for Catalan, it's clear they have some problems to iron out for the remainder of the season. Big signings like Sam Tomkins and Matty Smith have certainly made their mark at the club, showing the South of France exactly why they were additions to McNamara's side for the 2019 season.
Betfred Grand Final Winner Odds: 25/1
Wigan Warriors
A far from ideal start for the current champions, as they are falling short towards the bottom of the league, having won only three of their games so far. It hasn't quite been the dream start Adrian Lam was hoping for, from starting the season on -2 points, continuing onto lose five matches on the bounce, they've had a player charged with drink-driving and more recently have had a player suspended after failing a drugs test. On the other hand, we know only too well Wigan know how to turn up the heat, however, with eight games gone and a ten points difference between them and leaders St Helens, could it be too late for Wigan to turn it around and return to top spot?
Betfred Grand Final Winner Odds: 7/1
Huddersfield Giants
As expected, Huddersfield have struggled to kick start their season. Some will say its normal for a team who lost a lot of big players and personalities at the end of last season to take some time getting back into a regular, winning rhythm. However, if Huddersfield continue with the style of play we have seen over the recent weeks it won't be surprising to see them climb the table at a rapid rate. The team they have is more than capable of achieving a top five spot but, if they don't settle into a game plan, it will be only a matter of time before they fall too far down the bottom of the table.
Betfred Grand Final Winner Odds: 66/1
Hull Kingston Rovers
Also sitting on six points at the bottom of the table is Hull KR, another side to have played nine games so far. Coach Tim Sheens has had limited choice for the start of the season, given that the Robins are yet another team struggling with injuries, but he is openly confident that the team he has at his disposal are more than capable of improving over the upcoming weeks. They certainly made their mark in the 2019 season winning their first derby with Hull FC. Do you think they've got what it takes to climb up the table?
Betfred Grand Final Winner Odds: 100/1
London Broncos
London certainly knew how to make their mark in Super League with a convincing win during their first game of the season. We have also seen them beat champions Wigan and former greats Leeds during their nine games so far. However, it's not surprising to see them at the bottom of the table. While the Broncos shouldn't be too disappointed with their performances so far, if they want to stay in Super League for next season they will need to find the spark they had back in February.
Betfred Grand Final Winner Odds: 500/1
Leeds Rhinos
Finally, we come to Leeds Rhinos. It's been a slow start to the season for Leeds, winning only two from nine games and their victories being a month apart. On paper, Leeds have an extremely strong side and their poor form surely won't last. Their recent victory during the first televised Golden Point Super League game could be a real turning point for them, however, if we don't see the same passion we saw following that all-important drop goal make a reappearance in their upcoming games, the 6th place finish we predicted at the start of the season will soon become unrealistic for the Rhinos.
Betfred Grand Final Winner Odds: 25/1
Back