LAC's European Regulatory Roundup Panel for Affiliate Marketing
27/02/2020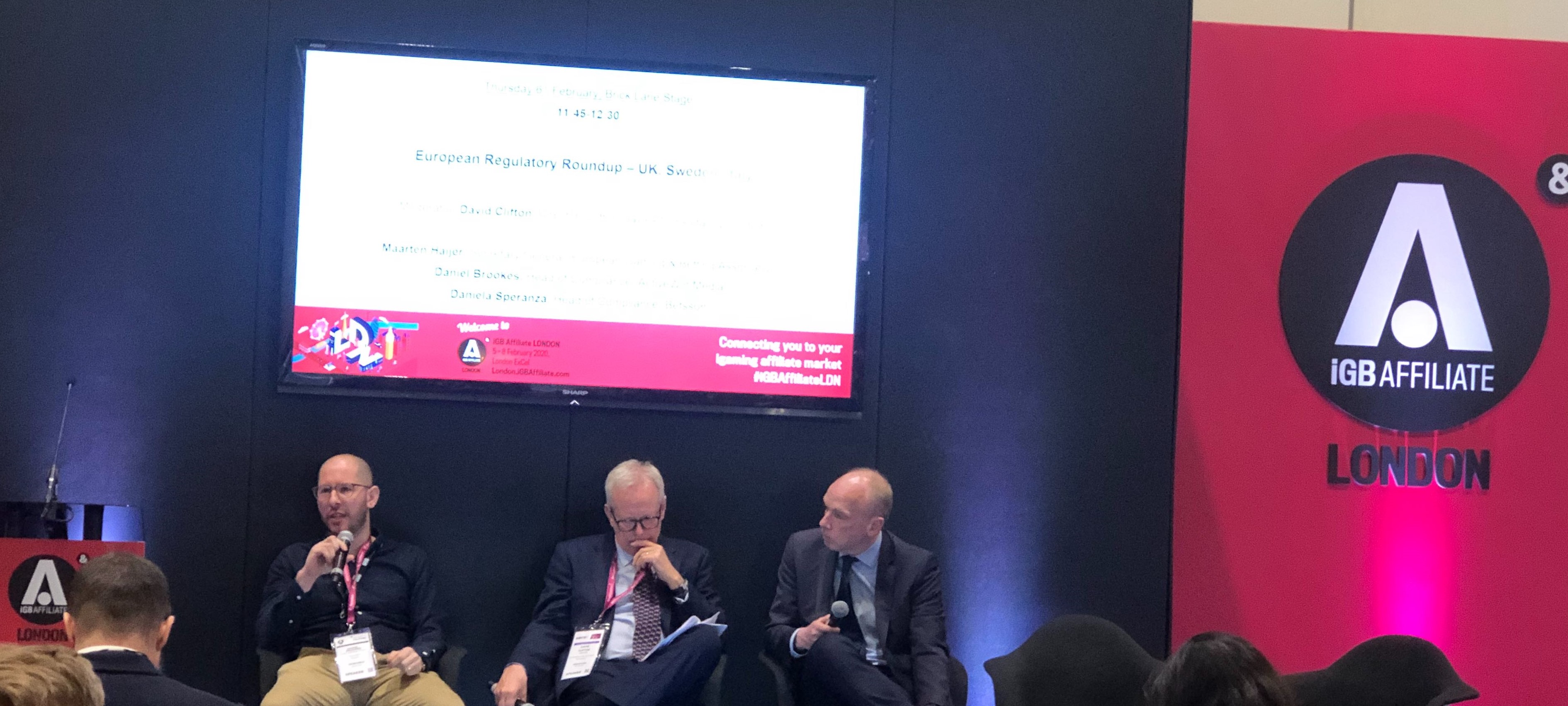 ActiveWins ensures that adherence to compliance guidelines is built into every campaign and must run continuously through every aspect of digital marketing, particularly affiliate marketing.
The annual iGB London Affiliate Conference hosted a number of expert panels, discussing and debating a range of issues and innovations within the online gambling industry.
This year, ActiveWin Compliance Director Daniel Brookes was called upon to co-chair the European Regulatory Roundup.
Danny was joined by Maarten Haijer, Secretary-General for the European Gaming & Betting Association, and Moderator David Clifton, Director of Clifton Davies Consultancy Limited.
The brief of the panel was:
"It's no secret that changing regulations can be unpredictable at times. How have affiliates survived regulatory developments in their respective markets, and how can you future-proof your business against unforeseen or sudden change?"
Naturally, the insights offered were not restricted, with answers opening debate on content creation, forecasting, and press coverage, among other topics.
One of the points Danny was keen to stress throughout the panel, was that best practice means anticipating changes in regulations. It is not enough to make sure you stay in line with the current regulations laid out by the Advertising Standards Agency (ASA) and the UK Gambling Commission, you need to be preparing and taking steps to comply with those which are likely to come into force.
Danny said: "What has continued to work well for us, is to think about those problems before they happen. We are perfecting the changes that you ultimately need in the business. That's probably one of the greatest pieces of advice that I can personally give you.
"The first thing I like to do is zeitgeist it, to break it down into sections of what the requirements are and see how that affects us.
"That makes it clear to me how I need to act, what I need to inform the affiliate managers who work for us."
Affiliate marketing is, by its very nature, a partnership and everyone must be on the same page regarding the necessary actions. Danny advocates a collaborative approach across the industry.
"It needs the affiliate industry really to understand all aspects of regulation that are happening, as far as the customer is concerned, to get really into it in much greater depth, possibly, than has been the case before.
"… in the UK we have consultancies for the Gambling Commission all the time, whereby they ask people's opinions - what are you doing as separate businesses?
"It's an opportunity for us as a group to be able to say yes, this works for us, this is our expertise. Or we don't approve what you are saying here on this point, we recommend you do it this way and this will work for the industry. It's a very powerful thing to do.
"The more we're allowed a voice and can speak about things, the easier it'll get for all of us and people will be able to influence decisions being made at policy level, before they come into play and affect us."
We have certainly witnessed a change in attitude over the last couple of years from affiliates. These days, it seems, affiliates understand the importance of compliance and the potentially disastrous consequences of breaching regulations.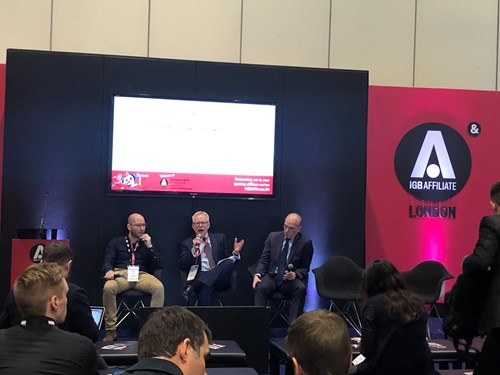 Danny: "It's getting easier. We would contact an affiliate marketer who was potentially advertising in a non-compliant way, even 12 to 18 months ago, and we wouldn't get a response. And it's only when they realised that we will close their traffic down and stop working with them that they started to sit up then and take some notice to what we were saying and why we were saying it.
"What we started to notice was a more collaborative approach, I think it's partly because the affiliate industry understands that the operators need to make these changes, everyone is under pressure, so we go into this to do something about it."
Moderator David Clifton then asked, "How difficult is it to get to grips with it [the ASA and other advertising codes] from your perspective?"
Danny explained that it isn't too difficult as "the ASA are pretty specific in what you can and can't do, the CMA [Competition and Markets Authority] are pretty clear as well with regards to what they are happy with and not happy with.
"People are a lot more aware now about the industry in general and what people are thinking within the industry.
"There isn't anything that is outrageous. Gambling should be a choice, it's an opportunity for someone to take part in a leisure activity in a way that is fun and enjoyable, but there shouldn't be pressure to gamble. We don't need to do that. "
The key, therefore, is to produce effective marketing content, and design offers and promotions with the customers' wants and needs in mind.
"If we work on our branding in the right way, and focus on a promo offer that is attractive to them, we don't need to say 'Bet Now and get the offer within 25 minutes…' the offer itself and the branding and what you present is what speaks to the customer."
So, where does the UK sit in terms of responsible and compliant marketing in the gambling industry?
Danny said "…we have been very successful, we've had a really good go at it since the legislation change in the UK, around 10 years ago, we're doing alright. We want to be able to continue that here and in other territories.
"But, like it or not, other territories and other regulators look at what the Gambling Commission do here, we are seen as a model to follow.
"What we've noticed in wider society, and it is a societal issue, is that the trust within the industry, in general, has dropped dramatically, so public opinion of what we do is down in the ditches. That should be worrying to us, we need to have a combined effort [to address it]. It's not just affiliates, it's up to operators as well, to say we are a leisure activity, for the public to do, enjoy it, do so responsibly. I know that message is going out."
There are, of course, negative press and public opinions regarding gambling.
Maarten liked the attitudes in Europe to those regarding the tobacco industry:
"Some of the same arguments used about why there should be less gambling are the same arguments used against the tobacco industry. It's not for us to deny them, but to explain, and to do better, frankly that's the challenge that we have as an industry if we don't do it, we'll always be on the back foot, running after the changes."
Moderator David Clifton read out a statistic regarding gambling analysis carried out last year, which estimated that gambling operators are spending £1.2billion marketing online, 5x more than on television, and postulated that with the ASA cracking down and the focus turning online "without wanting to sound pessimistic, it's not a pretty picture."
Danny: "We can almost guarantee that's there's going to be more and more of a magnifying glass in our industry, online, and of our affiliate sites they will be less forgiving.
"Copy, range of games, wording… especially these days, when you can take the wording and put it through a tool and analyse it without someone having to have to go through by eye. You can look at every single page, really look at it, and get that analysis."
The challenges facing the gambling industry include the threat of a retracted marketplace, due to government crackdowns and negative public opinion.
Danny: "Some people do want to see a retracted market place, they do want to see gambling taking a back seat and gambling advertising stopped, that's the reality we are living in, it's just how we make that as difficult as possible because it's always there."
The media continue to play a part in promoting negative stories relating to gambling, influencing public opinion.
Danny said: "The newspaper story won't run on how many good sites there are, how much effective, brilliant marketing, how many [promotions] are accurately displayed, they won't concentrate on that. They concentrate on the one that doesn't work, that one affiliate story that's negative, that's saying "come with me, get £10m, make a fortune gambling" that's what's attractive.
"If one customer goes on the operator's site, gambles too much money, [the site] doesn't get closed down and all of a sudden you have a big story in the press. We need to make sure, as much as possible, that we're not falling into that trap because it is a trap that ultimately people are looking for. It is a story.
"If you've got a quiet news day you can run a story about a "dodgy affiliate marketer" "dodgy operator" people read it and like it. It gets people's emotions up it can be 'poor person who has lost their house, or whatever it is'
"I'm not saying it doesn't happen, you need to be very careful, but it is sensationalised a lot in the press. We just need to be really aware of that.
"I don't have all the solutions. It's just looking at the regulations what's going to happen in the future and starting to embrace that change management, certain technology. Talking about we are going to do that individually, but everybody does need to do that everyone needs to continue to be successful, that's what we want to see."
The panel closed with a sense of hope and positivity, the message being, that we can see these regulations as an opportunity to be more creative, to collaborate, and to innovate.
Danny, said: "Looking at our content, our SEO and PPC – why are we bidding on these keywords? These are things we're doing to get ahead of the curve.
"I've said ahead of the curve a few times now, but, really, as technology companies and marketing companies, as creative people, we shouldn't be waiting on regulators to tell us what we need to do.
"We should be coming up with fun and interesting tools to be able to acquire customers whilst ensuring we are getting good ltvs [lifetime values] From those customers over time. We can do that, we have the technology at the moment.
"There's a really good opportunity to develop that verve within the industry and exponent of the industry as well, into other regulated markets. It's a crime that we're not doing more of that and this is an opportunity to look at how we can improve things for the customer and develop new technology."
Danny Brookes heads up our dedicated compliance team, ensuring our affiliate account managers are always up to date with the latest industry rules and regulations.
If you would like to speak to your account manager about compliance or any other aspect of your business, please don't hesitate to get in touch.
Back