The Blue View vs What the Reds Said: All-Time Reverse XIs
29/01/2020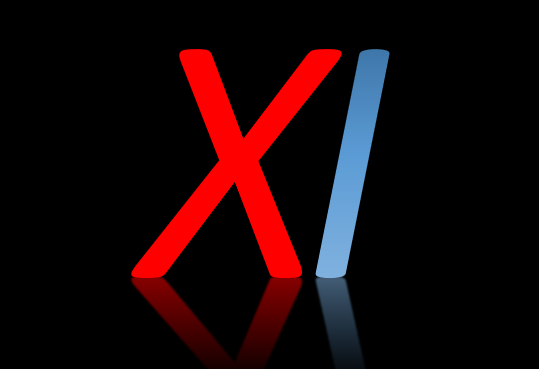 As we touched upon in the last edition of 'The Blue View vs What the Reds Said', it's the dawn of a new decade and both sides of Manchester are in a period of transition as they enter this new era in their history. City are presumably preparing for life after Pep, given that he famously never stays at a club longer than four years, and should he stay, they are still dealing with the loss of Vincent Kompany and the imminent departures of David Silva and perhaps even Fernandinho. In United's case, it feels like we've heard phrases like 'in transition' and 'rebuild' every year since Fergie retired, but this latest evolution under Ole Gunnar Solskjaer looks like they're finally thinking long-term.
With that in mind, instead of looking forward into uncertainty, we thought we'd look not only look back at some of the players most would sooner forget, but also some current squad members that we're eager to join them. The only proviso was that we had to choose players that we had seen play in our time, otherwise the sheer pool of players might have been simply overwhelming. So, without further ado, have a look and hopefully a laugh or two at our 'Reverse All-Time XI'.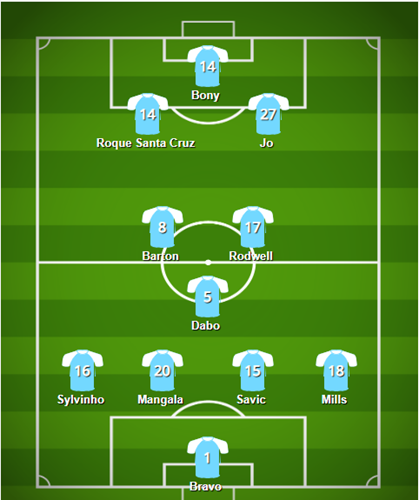 City
I think I probably found this task a little easier than my Red counterpart as, for me, making this list is like remembering old childhood friends that used to get me in trouble with teachers. Sure, they made my life hell sometimes, but there's still a lot of love there, and I reckon I've managed to assemble a side that does justice to the adage 'typical City'.
Let's start with the defence. Intriguingly, we've both put ex-Barca keepers in our teams, which might suggest something about Catalan's goalie coaches. Claudio Bravo was meant to usher in the Pep age; Guardiola famously dropped then fan-favourite Joe Hart in favour of the Chilean. The reasoning was that Bravo was better with his feet and could play the kind of football City's illustrious coach demands. To be fair, he can kick a ball quite far, but it's his hands that are the issue. Now, a short keeper who can't jump or handle the ball properly might sound like a nightmare, but it's the perfect combination for this squad.
In front of him, we have a backline that I can only describe as a defence. I'm a firm believer that you need experience in a centre-back pairing and we certainly have it here with two Premier League winners. Eliaquim Mangala, the only man to win a Premier League medal playing for Everton (or rather not), sits on the left and would operate as the no-nonsense player in this set-up, two-footing any man foolish enough to venture into the penalty box. This would allow Stefan Savic to show-off some of the ball-playing ability that prompted Mancini to fork out £6 million for him. Sure, it would have been nice if 'Bobby Manc' had analysed his actual defending, but who am I to argue with the man who destroyed United 6-1 in their own backyard (City, City, etc).
In the modern game, you need versatile full-backs who are comfortable in both attack and defence, but since we're looking at the past, I thought I'd pick two that can't do either. Okay, maybe that's a little harsh on Sylvinho, he had a pretty good time at big clubs like Barcelona and Corinthians, as well as lesser sides, like Arsenal. However, for all that Champions League-winning experience, he still couldn't meet the demands of the Sky-Blue shirt and left after just 11 league appearances. Danny Mills earns his place in the squad for managing to be even more unlikable as a pundit than a player, so props to him for that. 
Onto midfield and there is no shortage of fireworks here. We start with Ousmane Dabo, a man who made 25 blistering appearances for the Blues. With a stunning lack of tactical nous, an ability to get injured from the most innocuous of challenges and a propensity for not being great, he typified an era of extreme mediocrity for City and is perhaps a zeitgeist of their noughties form. Deployed ahead of him is the dynamic English duo, Joey Barton and Jack Rodwell.
The former should be able to link right up with Dabo as they showed undeniable chemistry in their time together. Granted it was the explosive kind that led to a training ground bust-up which essentially ended Dabo's City career, but that's the kind of fighting spirit that scrapes survival year in, year out. As for Rodwell, you know what you're getting with him in the side, a player who epitomises the British Bulldog like nothing else; doesn't listen to instructions, wanders about aimlessly and spends most of his time hurting himself.
We finish with the most exciting part of any team, the attackers. There was a multitude of names I could have picked here but, for me, these three are the clear choices. When picking the frontline, there was only one thing in my mind, goals, and these guys have a history of banging them in. Granted, their scoring prowess was exclusively shown at other clubs, but there is a lot of talent in this offence. Pair the strength and tenacity of Wilfried Bony with the pace and technical ability of Roque Santa Cruz and you have the kind of dynamism that could hurt a midtable Championship side in the 4th round of the FA Cup. Oh, and Jo is in there too, well, because he's Jo…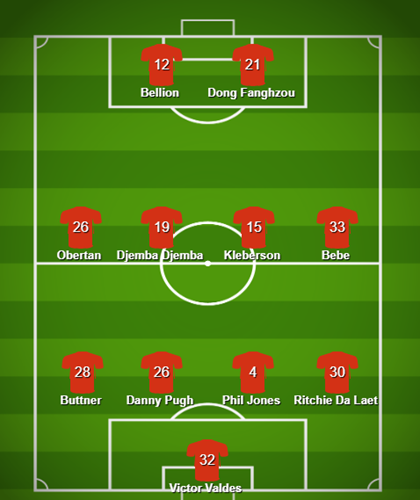 United
This wasn't so much tough as it was too easy: whilst you tend to associate United and catastrophe with the post-Fergie era, many of the players that sprang to mind were the absolute stinkers that he pulled out of nowhere, before promptly putting them back there.
Tactically, I've set up in a traditional 4-4-2, as not only is it generally considered outdated and overly rigid in the modern game, but many of the players I've chosen would feel at home playing this system in their era. Starting with Victor Valdes, some might feel the Barca legend has been hard done by – after all, the likes of Carroll and Ricardo, among many others, could have taken the no.1 spot – however, it was more to do with bigger picture surrounding his United career that forced my hand. Acting as back-up for De Gea, not only did he fail to make an impact but after a series of off-the-pitch tantrums, he was demoted to the under 23s side, to which he didn't take kindly, and rightly so, in fairness. After only a handful of appearances across both, he quickly joined Middlesbrough for their relegation campaign in 2017 and his career practically went off a cliff, making him the perfect man to unsettle that back four.
Speaking of, as we move on to defence, it's worth stating that many of the players were simply too forgetful not to include in a list, for a change. At full-back, we have Ritchie De Laet and Alexander Büttner, the former of which was actually part of the Leicester title-winning side, and the latter scoring a wonderful solo debut goal. However, other than those highlights, neither have gone on to do anything else of note – at United or otherwise.
Looking at centre-half, another forgetful face was Danny Pugh, a perpetual utility player that whilst only ever really fit to warm the bench of United in the early 2000s, is the perfect sub-par player to form part of this team's speculative spine. Finally, no United team is complete without the king of all court jesters and full-time facial contortionist, Phil Jones. On a serious note, Calamity Jones' defensive 'ability' transcends any United era and you can count on him to provide game-changing gaffs with every appearance. Sincerely, one of the worst defenders I have ever seen, he is rightfully the first name on this torrid team sheet.
Ironically, there was somewhat of an embarrassment of riches when it came to the central midfield, with Carrick arguably being the last consistently good player we had in that position. My first choice was José Kléberson: a prime example of the ill-advised recruitment strategy of snapping up a player after one decent showing at an international tournament. This seems to happen at every World Cup/Euros and its foolishness was only emphasised further by the simultaneous arrival of Ronaldo – rarely do two careers go in such different directions. Then there's the case of Eric Djemba Djemba: 'so bad they named him twice', as the saying goes. Combined with clueless Kléberson, you can expect plenty of dispossessions, fruitless flicks and loose balls from this dynamic duo.
On the flanks, you have two more promising prospects that will go below and beyond to put in not just underwhelming, but downright poor performances upon each time of asking. On the right, forget Becks and Ronaldo, I've gone for Bebe: another overhyped and forgetful signing whose shots from distance and delivery into the box were equally consistent, as both would consistently end up in row Z. On the left, you have Gabriel Obertan, the only player I can remember running the ball out of play, virtually unchallenged, with the very first touch of his debut. Priceless.
Now, on to the strikers; it's a frightening forward line if I've ever seen one—literally, I mean. First, you have David Bellion, a singing that risked breaking Premier League regulations, all for the sake of a mere four goals and a reputation for poor professionalism over his part in the Sunderland-United switch. The other half of this strike force is Dong Fangzhuo, who promises not only rolling injuries and little to no goals but plenty of shirt sales too, as it became evident that the Chinese international was signed as more of a marketing ploy than anything else. This was consolidated when his first appearances came on the Asia tour, prior to even securing a work permit, before promptly being sent out on a series of loans that were only really broken up by his proper debut in a pointless game against Chelsea in 2007, after United had already sewn up the league.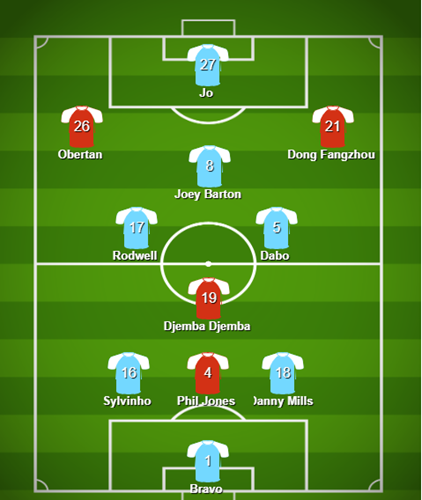 Combined XI
Now we get to the tough part. In keeping with the spirit of this blog, we've gone for a rather unconventional formation, but it's one we feel would truly show the potential of the squad. It was a Barca battle for the number one spot, but Claudio Bravo just pips it, mainly because he had more chances to mess up than Valdes, and he did… repeatedly.
Even though we both picked a four at the back set-up for our teams, we've switched it up here with a three-man defence. The reasoning for this is twofold; firstly, we reckon having Phil Jones at the base of the spine and acting in a sweeper-esque role would be more responsibility than he could handle, with Mills and Sylvinho adding some risky flair to the mix for good measure. Second, it allows us not only to pack the centre with wasteful players like Djemba Djemba and Rodwell – whilst Barton and Dabo finally have round two of their famous bust-up – but it also takes a man out of the defence, leaving it all the more vulnerable and primed for comedy.
We've taken a leaf from the book of Jose and deployed three holding midfielders; Djemba Djemba, Rodwell and Dabo. People might go on about the likes of De Bruyne or Pogba, but can either of them offer the rigidity and no-nonsense physicality of these men? I think not. Joey Barton plays just ahead, partly to offer creativity but mostly because we didn't feel there was enough violence in the team without him.
Finally, we have the front three, an attack that perfectly slots into this side. Starting at the wings, we have Obertan on left and Dong Fangzhuo on the right. The former may have been blighted by injuries in his career, but in his brief chances on the pitch, he's showed the kind of attacking nous that nets you a whopping two goals in 71 league appearances. With Dong, some may question why we've picked a player who couldn't make his debut for 3 years and was promptly sold soon after he did. To those people I ask, did you watch the Belgium Second Division in 2005? Of course, there's only one man who can spearhead this side: Jo, because, again, he's Jo.
Nevermind the Class of '92, The Invincibles, or The Centurions – I think we can all agree that this is an XI you simply cannot forget.
Back