The Blue View vs What the Reds Said: PL 20/21 - City
18/09/2020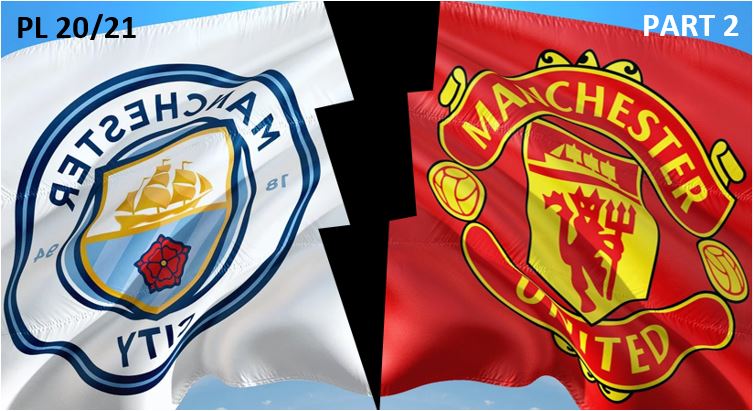 Last week, The Blue View vs What the Reds Said returned ahead of the two clubs' first Premier League fixtures in the 2020/21 season. Whilst we've already heard from the United perspective, now it's City's turn.
Manchester City always drum-up a fair bit of excitement in the world of sportsbook affiliate marketing and that will surely be no different his year. Here, we'll see what the blue side of Manchester have to do to get back on track and whether our writers think they will improve or continue to fall short of their respective goals.
Transfers
Manchester City were below the standards they have set for themselves last year and Pep Guardiola wouldn't have been content with just the Carabao Cup. With some players phasing out, additions are needed and they have already done some good business this summer, having signed Nathan Ake from Bournemouth and Ferran Torres from Valencia.
Is Ake the Answer?
Many have questioned the price tag attached to the young Dutchmen, as £40 million is a lot of money, especially for a defender from a relegated team. However, Ake is the perfect example of not judging an individual based on the team's performance. In his time at Bournemouth, the south coast side made 61 errors that led to goals, but Ake was responsible for none of those despite making more appearances than anyone else.
He would seem to be a perfect back-up option for Laporte too; left-footed, a wealth of Premier League experience and confident on the ball. With an 88% pass completion rate, he's got the range to fit into Guardiola's system and even chips in with a few goals and assists. Regardless of his suitability though, Ake probably isn't the man to overturn the Blues' defensive woes.
Additionally, both Nicolas Otamendi and John Stones look likely to leave this summer, leaving one more spot open for an experienced centre half.
According to reports, Pep's top target is Napoli's Kalidou Koulibaly, who has been one of the best defenders in the world for a few years now. While the price tag could be massive, Koulibaly is exactly the type of player City need; he is physical, can lead the defence in the absence of Laporte and has excelled at the highest level of the game.
Attacking Threats Galore
Up the other end of the pitch, City have one of the best offences in the world, with a plethora of options that can rotate to fit the busy schedule. That said, the departures of David Silva and Leroy Sane mean two significant parts of the Blues' recent success can no longer be relied upon.
Sane was out for most of last season with a knee injury and, while by no means the sole reason City underachieved, you can't help but think having a quick, dynamic winger in his mould would have helped at times. Ferran Torres has been brought in for this very reason.
While many in England may not know too much about him, in Spain he's regarded as one the top prospects in the country. He played a total of 44 games last season, scoring six goals and registering eight assists – not too shabby a return for a 20-year-old in their breakout season. His talents will no doubt prove useful in the next campaign.
Stockport prodigy, Phil Foden, will also look to fill in the spot left by Silva, but that doesn't mean City are covered completely upfront. Sergio Aguero has been City's main scorer for years now, but at the age of 31 and with regular fitness concerns, the club are probably planning for the future.
The Impossible Dream
City have been linked with every high profile forward out there but two names stand out. While any of these potential transfers will be a difficult deal to complete, Inter Milan's Lautaro Martinez is probably the most doable. The last time they signed a young Argentinian striker from one of Europe's top clubs, it turned out alright for the Blues, but Martinez isn't a like-for-like replacement.
First off, he's more of a target man than Aguero, offering a good aerial threat and strong hold-up play, but that doesn't mean he lacks the technical attributes required. He can add a dimension to City's game that they currently don't have. Similarly, another option would be Borussia Dortmund's Erling Braut Håland, son of former City player, Alf-Ing Håland.
It isn't his connections to the club that City are interested in though: Håland is a born finisher and has an astonishing strike rate, having scored 40 goals in 40 appearances last season. The issue is that he has only recently moved to Dortmund and will command a huge sum if City are to prize him away from the German side.
Will They Retake Their Premier League Title?
Regardless of potential transfers, City have an embarrassment of riches on the pitch and have to do better next season.
It's hard to see them falling as far behind Liverpool as they did in the last campaign and they have already made two good additions, but they need at least one more experienced centre back if they are to fix their defensive problems.
If they shore up the backline and add another option up top, Man City are big favourites to win the Premier League trophy once again.
Sportsbook Affiliate Marketing with ActiveWins
Manchester's top footballing institutions have taken steps to ensure their continued success and you should do the same.
If you need help with your affiliate marketing, and that includes sports affiliate marketing, then get in touch to see how we can take you to the next level.
Back