The Blue View vs What the Reds Said: PL 20/21 - United
17/09/2020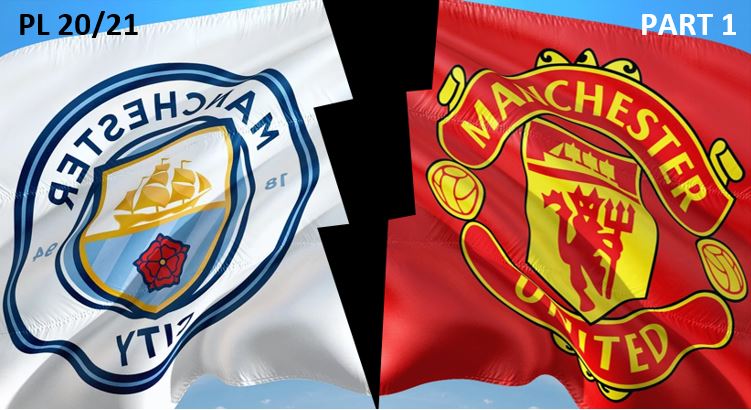 In case you've been living under a rock, the Premier League is back and although the first round of fixtures have been played, the two Manchester clubs are yet to play. As we at ActiveWin are based in the wonderful city of Manchester, both the red and the blue side of the city are near and dear to our hearts. With that in mind, we are happy to see the return of our 'The Blue View vs What the Reds Said' series ahead the two teams getting their seasons underway this weekend.
Progress
While the 19/20 season was by no means perfect for Manchester United, the Red Devils look leaps and bounds beyond the level they were playing at under Jose Mourinho. Ole Gunnar Solskjaer started off to a flyer when he first took over as caretaker December of 2018, and aside from some wobbles in consistency, his first full season in charge has seen positivity and attacking impetus return to Old Trafford.
Clearing out the Deadwood
One of Ole's biggest triumphs this past season has been in clearing out the deadwood in the squad. It's been several years but some fringe players from the last days of Sir Alex and ill-fitting signings under the likes of Louis van Gaal still remain at the club, waterlogging the club and stagnating the team's overall progress.
Since Ole took the full-time position, however, the club have managed to move on Ashley Young, Matteo Darmian, Marouane Fellaini and more. Others like Chris Smalling and Marcos Rojo have been loaned out, with permanent deals on the horizon. The job is not done yet though. Whilst not currently in the first team, somehow players like Phil Jones and Andreas Pereira still remain in the side.
Although there are still some areas of the pitch that need improving, it is strength in depth that needs addressing first and foremost. Freeing up spots on the bench by getting rid of players like these whose United careers look over is crucial if United want to build a squad that challenge for the title again.
Three or Four Players Off
As alluded to, United do remain two or three players shy off competing with the likes of City and Liverpool. This season's Europa League semi-final highlighted that despite bringing in Harry Maguire, the defence still needs some work. Maguire has massively improved the Reds' defensive record but its clear that he needs a more convincing partner alongside him.
Whilst the United have signed former Ajax midfielder, Donny van de Beek, this could be argued as a less important area of the pitch given the number of players in that area of the pitch. The club were also said to have been pursuing Lille centre-half, Gabriel Magalhães, but it seems as though Arsenal have beaten the Reds to his signature. However, there a plenty of other options with more experience in the English game; one that fits Ole's current recruitment policy is Brighton's 22-year old Ben White.
The young centre-half massively impressed on loan at Leeds in 19/20, with great distribution, regularly stepping out with the ball and putting in plenty of mature performances for someone of his limited age. Leeds are said to be desperate to make him one of their first permanent signings this season, but wouldn't it be a fitting way for United to welcome them back to the Premier League by snatching him up?
Risk of Being Left Back
Many fans are also enticed by the idea of adding another midfielder, but in truth, this is the area of the pitch where they're most plentiful. Instead, United's effort might be best turned to left-back. Even with the occasional decent performance, Luke Shaw has simply never looked the same since his horror injury all those years ago; Brandon Williams has done extremely well to step up to the Premier League in his stead too, but reverting to a squad player might better suit his development.
Attacking full-backs are essential in the modern game and it is one of the main areas of United's game that is lacking. With that in mind, the club should consider this position critical to their success and wouldn't go far wrong returning to Portugal. The impact of Bruno Fernandes cannot be overstated and another potentially transformational signing would be Porto's, Alex Telles.
Notwithstanding his defensive importance, the 27-year old left-back has been a regular source of gaols and creativity for the current Primeira Liga champions. Entering his prime years, Telles is coming off the back of his best statistical season yet, contributing 13 goals and 12 assists. He has been linked with moves to Manchester and many other destinations before, so he won't be cheap, but his leadership and proficiency in an essential position could be huge.
The Sancho Saga
Without a doubt, United's number one target is young starlet, Jadon Sancho. Ironically, Sancho was allowed to leave the blue side of Manchester in 2017 at the age of just 17. Since then, he has gone from strength to strength to become of the most exciting and sought-after talents in European football. This past season alone, he has registered 20 goals and 20 assists in 44 games. Consistency.
He is an integral part of Lucien Favre's Dortmund side and that being said, the club have been steadfast in their stance on his future. Sancho had been heavily linked to United all throughout the 19/20 season and after seemingly having made some headway – with rumours that personal terms were actually agreed – the likelihood of the deal seems to be waning.
Unsurprisingly, Dortmund aren't eager to let him leave and should a deal be struck up, it won't be easy – or cheap. The primary reason behind United's struggles in negotiation is the immense £120 million price tag that Dortmund have slapped on Sancho. Furthermore, they have rebuffed any of their attempts to portion out a payment structure over several instalments.
Fans have expressed their frustration towards the Ed Woodward and the rest of the board for a while now, and whilst they have occasionally bought faith with the purchase of Paul Pogba and, most recently, Bruno Fernandes, their inability to capitalise on this season's momentum and tie up a deal for Sancho is telling.
United have been without a true right-winger since the Ferguson era and, moreover, Sancho currently wears the number seven at Dortmund and seems to have the temperament to wear the hallowed shirt. If the club managed to pull this deal off, not only would it add some much-needed balance to the right-hand side, but it would elevate an already blossoming forward line to the next level. Just imagine, Rashford, Martial and Sancho – that's a front three to frighten anyone.
Stay Tuned!
That's it in terms of the red side of Manchester, but as we're you sure well know, the neighbours over in the blue half are noisier than ever. Make sure you keep your eyes peeled for 
Back